sorry i haven't posted for a while. haven't been cooking or baking that much...except for a bazillion cupcakes for the r.s.p.c.a -i managed to raise just under $200! so i'm pleased and thankful for all of you who bought some of my cakes to support the cause. big ups to you!!

so with my slackness i have decided to give away my infamous tofu burger recipe...
for someone who does not really care for burgers, it maybe that they are a relative of the sandwich family -rach can vouch for my weird fussy childish phobia against sandwiches [i shudder as i write the word...eeeewww.] if they're toasted, fine but a fresh salad sandwich, i'm cringing right now at the thought of ever being forced to eat such a thing....aaaarrrggghhh!!!
but i am proud to say that this phobia saved me from ever trying a macdonalds hamburger...yep never eaten one in my life...and that i am thankful for.

so i have always made the good old stax's tofu burgers for group t.v nights and whenever i ask adam what he feels like for dinner 9 times outta 10 he'll say tofu burgers.
now the trick to a good burger is the assembly...so you must get everything prepped and ready to go and also stick to the order..this is the key!!!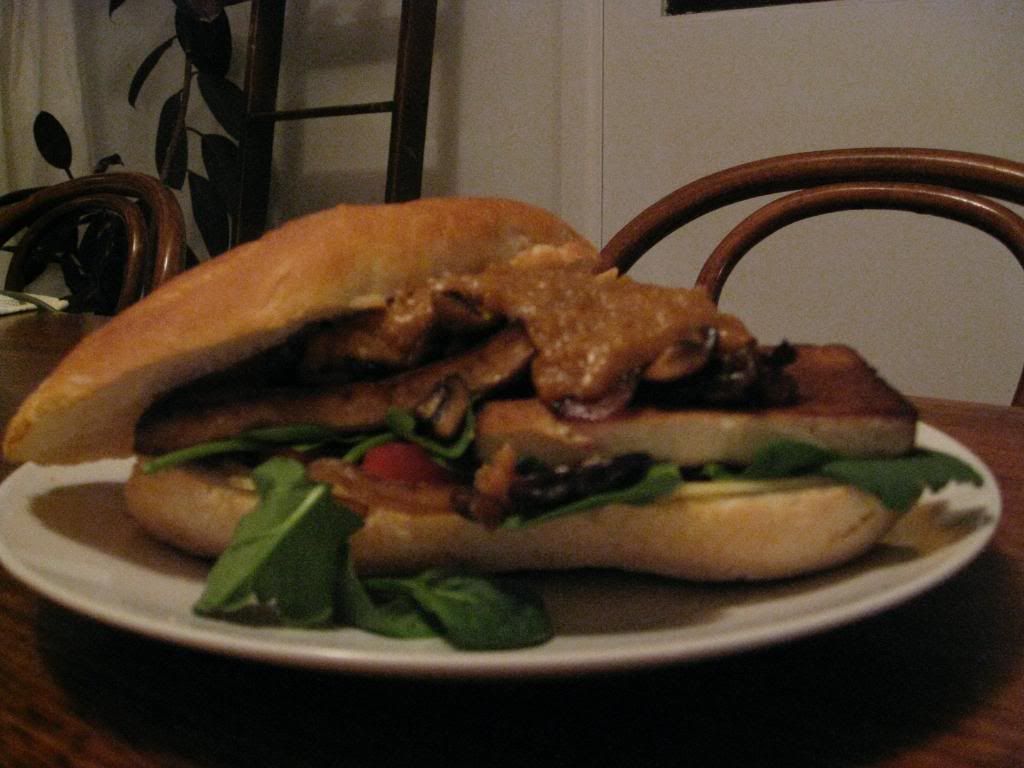 stax's tofu burgers
seves 4

500gms organic firm tofu [cut into 4 slices]
1 brown onion, sliced in half moons
large handful of mushrooms, sliced
2 - 3 medium sized tomatoes, sliced
large handful of baby spinach or rocket
3 dessert spoons crunchy peanut butter
1/4 cup rice,soy or coconut milk
soy sauce
kecap manis
mirin or rice wine vinegar
sweet chili sauce
sesame oil
oil - peanut, vegetable.
4 slices of swiss, or tasty cheddar cheese
sour cream
four crusty bread rolls, halved
chips to serve [preferably homemade]

pre-heat oven 150 deg C or spark up the bbq


step one:
place the slices of tofu into a zip lock bag or shallow container and drizzle approx. 2-3 tspns of soy sauce, 1-2 teaspoons of mirin or rice wine vinegar and a few drops of sesame oil. zip or cover your container and leave to marinade. you can do this from 10mins or up to two hours prior.

step two:
get the sauce ready. in a small saucepan place peanut butter, milk, and a teaspoon of each - kecap manis and sweet chili. and set aside

step three:
if you have a frying pan or skillet that is large enough to hold the four tofu slices, onions and mushies you can cook it all in the one pan otherwise use two or use the bbq!

on med heat, heat 1- 2 tablespoons of oil in a skillet, frying pan or season bbq. add your onion slices, stirring them often cook till soft and starting to brown in spots. add your mushrooms.

step four:
while the mushroom and onion mixture is cooking, push to the side of your pan take your tofu slices and add to the pan [if using separate pans heat 1-2 tspns oil then add tofu]. drizzle half of the marinade over the slices and cook for 5mins or until it is brown and crusty -but not dry! turn over and use rest of marinade and cook for 3-5mins. by this stage your mushroom onion mixture shoud be browned, give it a splash of soy if in a separate pan to tofu.

step five:
when you flip your tofu place your buns in the oven! to make them crusty and warm [approx 3mins]

step six:
everything should be cooked or just about so start you sauce.
you can turn everything off and keep warm in oven, covering with foil so they doesn't dry out or if you can juggle the timing go for it!! the sauce could be done at the beginning but i find it just doesn't taste as good.

heat small saucepan of sauce ingredients on med to low heat and stir to combine, when the peanut butter starts to become runny turn the heat to low and stir till desired consistency. you want it thick not runny but not like glue.

step seven:
the assembly!

take you crusty bun bottom [hee hee] and place on warmed plate.
smear sour cream on the base, and a small drizzle of sweet chili sauce.
lay some spinach down, a few slices of tomato and top with slice of cheese.
next the tofu, onion and mushroom and a generous dollop of satay sauce.
bun on top.
chips on side...
yummmmmmo!!!!!!


you won't make it any other way...and you'll get better at the juggling and timing of all things that you'll be making your own fries to go on the side!!!