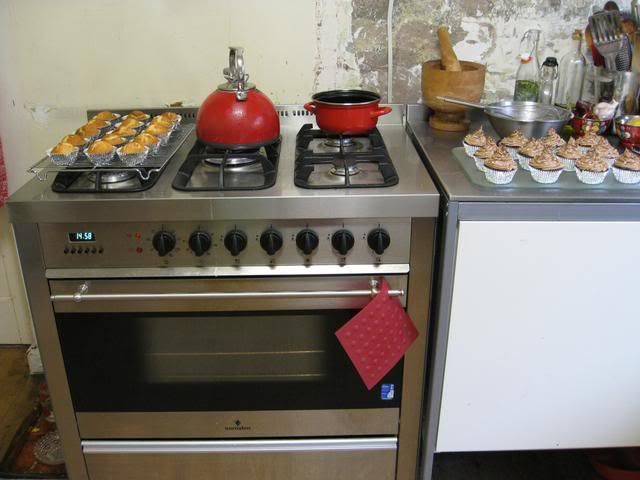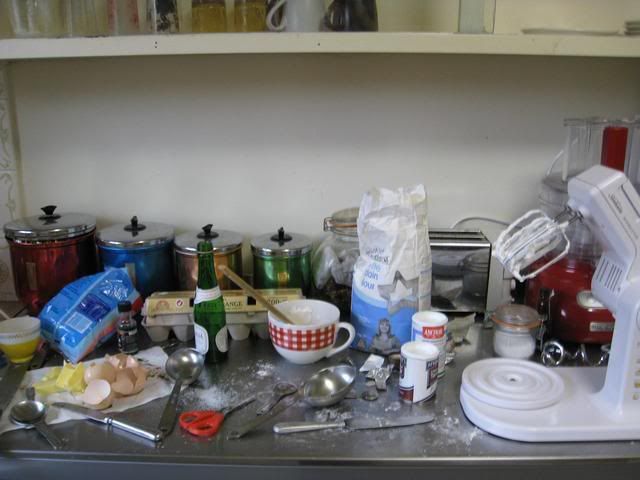 i was on the hunt for a marshmallow frosting that didn't turn to rock once it set..and this one's a winner! and so is this blog..if you're into cupcakes, then you'll love drooling over the recipes.
http://howtoeatacupcake.blogspot.com/2008/03/white-velvet-cupcakes-with-marshmallow.html
i used the marshmallow frosting recipe and tweaked the base recipe adding champagne.
i made these for sjaida's birthday. 29 cupcakes for a 29yr old b'day gal....
i also made these babies.... yuuuummmmmmmmmmmmmmmm
http://howtoeatacupcake.blogspot.com/2008/02/chocolate-frangelico-cupcakes-w-nutella.html
Champagne cupcakes w/ marshmallow frosting

approx. 18 cupcakes


2 cups all-purpose flour
2 teaspoons baking power
1 teaspoon salt, plus a pinch for the egg whites
½
cup unsalted butter, room temperature
1 ¼ cups sugar
2/3
cup champagne
3 egg whites
1. Preheat oven to 180°C.
2. Mix flour, baking powder, and salt together and set aside.
3. Cream butter and sugar until light and fluffy. Alternately add flour mixture and milk, ending with milk, and beat until batter is smooth. Add flavoring.
4. Beat egg whites with a pinch of salt until stiff but not dry. Gently fold into batter. Fold in mini-marshmallows.
5. Spoon batter into cupcake papers, filling cups about 2/3 full. Bake for 20-25 minutes or until tester inserted into the center comes out clean. Remove from oven and cool.
Marshmallow Frosting
i found that i had just over a cup's worth of frosting left after generously frosting the cakes... so i ate it! you could halve these measurements and still have plenty.
2 large egg whites
1 cup sugar
6 tbsp water
1 tbsp golden syrup [can use glucose or light corn syrup]
½ tsp cream of tartar
Pinch of salt
1 cup miniature marshmallows
1 tsp vanilla extract
flaked or shredded coconut for decoration
In a large, clean heatproof bowl, combine the egg whites, sugar, water, corn syrup, cream of tartar, and salt. Set the bowl over (but not touching) simmering water in a saucepan and heat the mixture, whisking constantly, until the sugar has dissolved and the mixture is very warm to the touch (about 160°F on an instant-read thermometer), about 3 minutes. Remove the bowl from the saucepan. Using an electric mixer on medium-high speed, beat the mixture until it is very warm and soft (but not dry) peaks form, about 2 minutes. Reduce the mixer to low and add the marshmallows and vanilla. Continue beating until the marshmallows are melted and the frosting is completely smooth, about 2 minutes more. Use right away.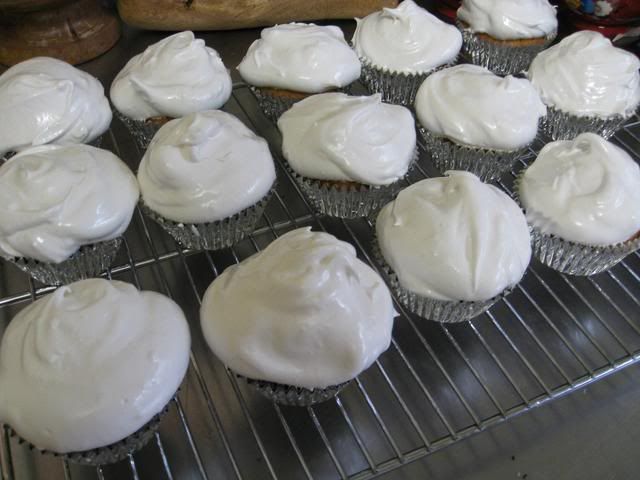 sprinkle with coconut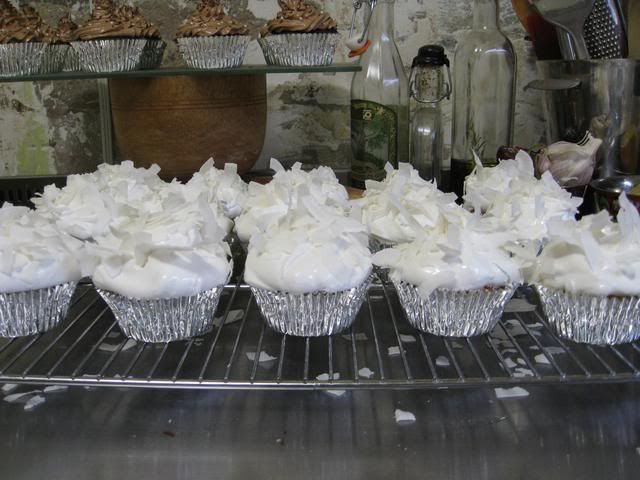 and eat!!!