along with my naturopath encouraging me to change my diet. so is my g.p.... i am on a kind of vegan/candida diet..doesn't that sound awesome!!!
so i'm becoming a bit of a hippy health freak.
and this is what i eat for breakfast..... enjoy!!!!

quinoa porridge with bananas, strawberries, cinnamon and warm honey
quinoa [

pronounced KEEN-wah

] is a fantastic grain. high in protein, lysine, magnesium, iron and is gluten free. so this little bowl of porridge packs a punch! you can cook it the same way you do for rice but you must rinse the grain well.
this makes 1 serve so double the quantity for two and so on. this combo is my fav but if in season blueberries are gold! you can use honey instead of maple syrup. oh and please cook it on the stove as to a microwave...it tastes a whole lot better!
1/2 cup quinoa* [or replaced with organic rolled oats]
1/2 milk rice, cow or soy

maple syrup to drizzle
ground cinnamon

*quinoa needs to be rinsed well or alternatively you can soak for a couple of hours or even overnight then rinse and drain.
put grains, water and milk into a small saucepan and cook over medium heat.
bring the mixture to the boil, cover and reduce heat to a slow simmer for about 10-15 mins
if using oats do not cover just stir constantly, cook for 5-10 minutes until the oats are tender.
place in a deep bowl top with fruit. drizzle with syrup and a sprinkle of cinnamon. i like it with an extra splash of milk so i can eat it straight away without burning my mouth!
variation: stewed apples and cinnamon - place diced apple into a saucepan when starting the porridge. with 2 tablespoons of water, a drizzle of either honey or maple sryup and a sprinkle of cinnamon. cover and cook on gentle heat for about 5-10 mins until apple is soft.
for the quick breakfast start and an extremely good snack for the li'l ones is my own homemade muesli made into a bar. good for those mornings you don't even have time to make yourself a cuppa... so just grab one of these and go!
2 cups dried fruit roughly chopped. i used figs, dates and barberries
2/3 cup of honey or rice syrup
1/3 cup natural peanut butter
pre heat oven at 175 deg C and lightly grease an 11" x 7" tray
mix all dry ingredients into a large bowl
put honey, peanut butter and oil into a small saucepan and stir to combine over low heat.
once at a runny consistency pour over dry ingredients and mix well.
the mixture should be a sticky mess.
press mixture into tray and smooth out evenly with the back of a spoon.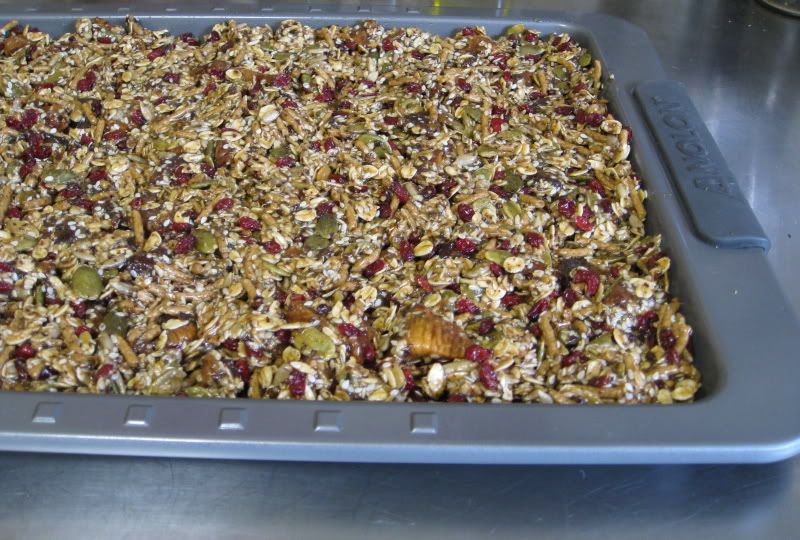 place in oven and cook for 10-15 mins till golden brown
allow to cool then cut into bars, wrap individually with baking paper and keep in fridge if hot weather.
*LSA is Linseed (Flaxseed), Sunflower and Almond mix, is used to provide essential fatty acids, soluble fibre and other nutrients. LSA is prepared by grinding up 3 parts Linseed, 2 parts Sunflower seed and one part Almond.